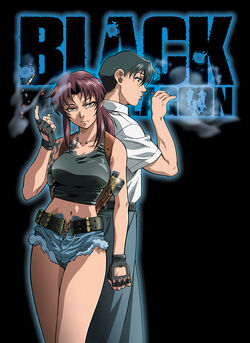 Black Lagoon (ブラック・ラグーンBurakku Ragūn) is a Japanese manga series written and illustrated by Rei Hiroe. It has been published in Shogakukan's Monthly Sunday Gene-X since 2002, and nine collected volumes have been released so far. It was later adapted into an anime television series, by Madhouse, that aired from April to June 2006 for twelve episodes. A second season, subtitled "The Second Barrage", ran for twelve weeks starting on October 2, 2006. A five volume original video animation series, titled Roberta's Blood Trail, was released from July 2010 to June 2011.
Viz Media began releasing an English translation of the manga in North America on August 12, 2008. Madman Entertainment licensed the anime in Australasia and the United Kingdom. The anime was dubbed and originally licensed in English by Geneon Universal Entertainment, now licensed by Funimation Entertainment, in North America. Funimation later licensed the OVA, which also was licensed by Kazé in the UK, for release in Spring 2013.
Plot
[
]
The story follows a team of pirates/mercenaries known as Lagoon Company, that smuggles goods in and around the seas of Southeast Asia in the early to mid 1990s.[1] Their base of operations is located in the fictional harbor city of Roanapur in southeast Thailand (somewhere in the Amphoe Mueang Trat district, likely on the mainland north/northeast of the Ko Chang island or on the island itself).[2] They transport goods in the 80-foot (24 m) Elco-type PT boat Black Lagoon. Lagoon Company does business with various clients, but has a particularly friendly relationship with the Russian crime syndicate Hotel Moscow. The team takes on a variety of missions—which may involve violent firefights, hand-to-hand combat, and nautical battles—in various Southeast Asian locations, even going as far as Phu Quoc island of Vietnam and when not doing much, the members of the Lagoon Company spend much of their down time at The Yellow Flag, a bar in Roanapur which is often destroyed in firefights.
Characters
[
]
Main article: List of Black Lagoon characters
Black Lagoon features a wide cast of characters, many of them envolved in the criminal underworld and its dealings in and around Roanapur.
Production
[
]
In an interview with Otaku USA, Rei Hiroe stated that Black Lagoon was inspired by James Ellroy, John Woo, Quentin Tarantino and Stephen King, as well as hearing about actual piracy cases in the East China Sea]] in the 1990s.[3]
Black Lagoon includes a considerable amount of graphic violence, often involving violent gun fights and spectacular physical feats in battle. Many of the characters who are most skilled with weapons (mainly guns) are women, thereby bearing a similarity with "girls-with-guns" genre with the six strongest women in the series adhering to some type of stereotype (dragon lady, referring to Revy, maids, referring to Roberta and Fabiola, nuns, referring to Eda, etc.). Some of the scenes and dialogue are within the realm of dark comedy, as humorous moments occur or are mentioned during and after many violent battles.
The character concept, gritty atmosphere and violence blending with black comedy depicted in Black Lagoon pays a homage to the films by Quentin Tarantino and the Coen Brothers. The Yellow Flag bar and Mexican standoff scenes in the series pays a tribute to spaghetti westerns; Tarantino is known for making references to spaghetti westerns in his films. It also make references to Tarantino's favorite films, such as The Wild Bunch poster (titled The Wild Punch) seen in Revy's bedroom in episode 11 of the anime and Revy mentioning My Bloody Valentine in episode 24.
The "Fujiyama Gangsta Paradise" arc showed that most of the characters throughout the series actually speak English, with the Japanese simply being done for the audience.[4] While the English voice acting in the anime is heavy in Japanese pronunciation, nearly all occurrences of English lines in the manga are accurate. However, the instances of Cyrillic script tend to be less so.
Media
[
]
Manga
[
]
Main article: List of Black Lagoon chapters
Written and illustrated by Rei Hiroe, Black Lagoon premiered in Monthly Sunday Gene-X on April 19, 2002. Chapters run monthly and are later collected into tankōbon volumes by Shogakukan. The first was released on December 12, 2002, and to date nine have been published, the last in 2009. After having been on hiatus since mid-2010, the series resumed in the February 2013 issue of Sunday GX, which was released on January 19.[5]
The manga was licensed for an English-language release in North America by Viz Media.[6] The first volume was released on August 12, 2008. Madman Entertainment distributes Viz's release of the series in the United Kingdom. Black Lagoon has also received domestic releases in many other countries; in France, Germany, Hong Kong, Italy, Singapore, South Korea, Spain, Mexico, Poland and Finland, by Kabuto, Carlsen Comics, Jade Dynasty, Panini Comics, Chuang Yi, Haksan Publishing, Norma Editorial, Grupo Editorial Vid, Waneko and Punainen jättiläinen respectively.
Anime
[
]
Main article: List of Black Lagoon episodes
An anime adaptation of Black Lagoon, produced by Madhouse, aired on Chiba TV from April 8, 2006 to June 24, 2006 for twelve episodes. A second season, labeled Black Lagoon: The Second Barrage and consisting of twelve more episodes, ran from October 3, 2006 to December 19, 2006. The second season focuses less on character development than the first season and more on the jobs they do. A five volume original video animation titled Black Lagoon: Roberta's Blood Trail was released in July 2010.
The anime was licensed in the United Kingdom and Australasia by Madman Entertainment. On July 3, 2008, Geneon Entertainment and Funimation Entertainment announced an agreement to distribute select titles in North America. While Geneon will still retain the license, Funimation will assume exclusive rights to the manufacturing, marketing, sales and distribution of select titles. Black Lagoon was one of several titles involved in the deal.[4] Geneon's English dub premiered on G4 Canada on October 26, 2007 and Starz Edge began airing it on February 29, 2008 to American audiences. The series aired in Australia on the Sci Fi Channel.
The first season was released on six DVDs, each containing two episodes, between August and December 2006.[7][8] The second season mirrored this, being released from January to June 2007.[9][10] The Blu-ray Disc releases of the two seasons included a total of seven short omake specials, each no longer than five minutes, that depict the characters in various humorous situations. In 2010, the series was released in four, two for each season, boxsets from August to September.
Geneon's North American dub was released on three DVD compilations, each containing four episodes, between May 22 and September 18, 2007. After being released individually, with volume one having a limited edition version containing a steelbook box that comes with a bonus disc with slots for all 3 volumes, the boxset of the entire first season was released December 30, 2008. The fourth bonus disc, available in the season one box set or the volume one steelbook edition, has a 15 minute behind the scenes with the English crew and voice actors, the "Red Fraction" music video performed by Mell, promotional videos, the creditless opening and ending, and Japanese opening. The Second Barrage volumes were released in the same manner, with the box set released in North America on April 14, 2009, case with episodes 13–24 on three discs with English/Japanese audio and English subtitles. The box set/steelbook version bonus disc includes promotional videos and the creditless opening and ending. At Anime Expo 2010, Funimation announced their licensing of the Roberta's Blood Trail OVA, which was released in 2013.[11] The first and second seasons were re-released on Blu-ray Disc/DVD combo pack on December 4, 2012.[12]
The series returned to American television on the Funimation Channel on February 15, 2013.[13]
The anime has also aired in Italy on MTV Italy, in Sweden on ZTV and on Animax in Spain, Portugal and Germany.
Music
[
]
Opening
"Red Fraction" by Mell (Episodes #1-23)
"Red Fraction (IO Drive Mix)" by Mell (Episodes #25-29)
Closing
"Don't Look Behind" by Edison (Episodes #1-14, 16-23)
"The World of Midnight" by Minako "mooki" Obata (Episode #15)
"Preach Headz Addiction" by Breath Frequency (Episode #24)
"When Johnny Comes Marching Home" by Edison (Episodes #25-28)
"This Moment: Prayer in the Light" by Minako "mooki" Obata (Episode #29)
Original Soundtrack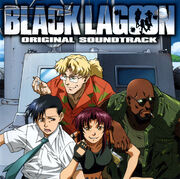 Red Fraction (Opening version) 1:32
Tear Drops to Earth 1:26
Asian Comfort 1:29
Don't Stop! 4:25
Samara Samanda 1:23
A Cold Wind in My Mind 1:26
Make a Bet 2:15
El Sol se Recuesta 4:15
Seasonal Wind 1:20
66 steps 2:25
The World of Midnight 1:48
Dark Side of the Moon 2:06
Tadpole Dance 1:32
Let Me Know Your Name 4:17
After the Rain 1:27
It's an Easy Afternoon 1:24
Behind the Clouds 1:36
The Anthem of the Aryan Socialist Union 1:32
Melting Brain 3:24
The Way to Last Night 1:44
Peach Headz Addiction 3:14
Don't Look Behind (Requiem version) 2:06
Father's Chest 1:58
Don't Let Me Join Now 2:02
Foxy Doll 2:07
Rock the Carnival 2:53
Mad Club 1:27
Don't Stop! (Guitar version) 3:41
Don't Look Behind (Ending version) 1:39
Reception
[
]
As of October 2007, the manga series has sold over 3 million copies in Japan.[14] About.com's Deb Aoki listed Viz Media's English release of Black Lagoon as the best new seinen manga of 2008, along with Gantz.[15] The anime series has received internationally positive reviews.[16][17][18] With Chris Beveridge of Anime on DVD going so far as to say: "To my surprise, knowing practically nothing about the show beyond a two minute clip at a convention, Black Lagoon manages to kick all kinds of ass. In English no less. The draw of a full bitrate 5.1 mix got me to watch it in English only to find that with most of the characters being western and in settings outside of Japan it works very well."[17]
References
[
]
In the El Baile de la Muerte arc (Japanese version), the tombstone of Diego Jose San Fernando Lovelace showed that he died in the year 1991, but there is something that looks like year 1996 in the next picture, the North American translation/publication showed that he died in 1996 and that can be seen in both pictures. Also, in the same arc, American soldiers are seen using EO Tech holographic weapons sights, which were not developed until the mid-to-late 1990s. Also there is timeline problem because of MVR (The Fifth Republic Movement) political party founded by Hugo Chavez in July 1997. Because of that we can assume that El Baile de la Muerte arc is placed somewhere between late july and early september 1997 (according to Dutch statement about finding news reports from last month).
Based on the map sen in episode 26, at 6:32 seconds in
Otaku USA August 2011 Issue, Page 106.
a b "FUNimation Entertainment and Geneon Entertainment Sign Exclusive Distribution Agreement for North America" (Press release). Anime News Network. 2008-07-03. Retrieved 2008-07-03.
"Black Lagoon Manga's Return Slated for January 19". Anime News Network. 2012-12-17. Retrieved 2012-12-18.
"Hiroe: Black Lagoon Manga to Resume in January/February". Anime News Network. 2012-12-17. Retrieved 2012-12-17.
"BLACK LAGOON 001" (in Japanese). Amazon.com. Retrieved 2008-06-01.
"BLACK LAGOON 006" (in Japanese). Amazon.com. Retrieved 2008-06-01.
"BLACK LAGOON The Second Barrage 001" (in Japanese). Amazon.com. Retrieved 2008-06-01.
"BLACK LAGOON The Second Barrage 006" (in Japanese). Amazon.com. Retrieved 2008-06-01.
"Funi Adds Live Action Moyashimon Live Action, More". Anime News Network. 2010-07-02. Retrieved 2010-07-03.
"Black Lagoon DVD/Blu-ray Complete Series (Hyb) – Anime Classics (Seasons 1–2)". Rightstuf.com. Retrieved 18 August 2012.
"Funimation Week 7 of 2013". Funimation Entertainment. Retrieved February 9, 2013.
The Obi strip of the manga Vol. 7.
Aoki, Deb. "2008 Best New Manga". About.com. Retrieved 2009-08-20.
Theron Martin (2007-05-18). "Black Lagoon DVD 1". Anime News Network. Retrieved 6 January 2009.
a b Chris Beveridge (2007-05-22). "Black Lagoon Vol. #1 (also w/limited edition)". Mania.com/Anime on DVD. Retrieved 6 January 2009.
Rob Lineberger (2007-06-04). "Black Lagoon: Volume 1". DVD Verdict. Retrieved 6 January 2009.
External links
[
]